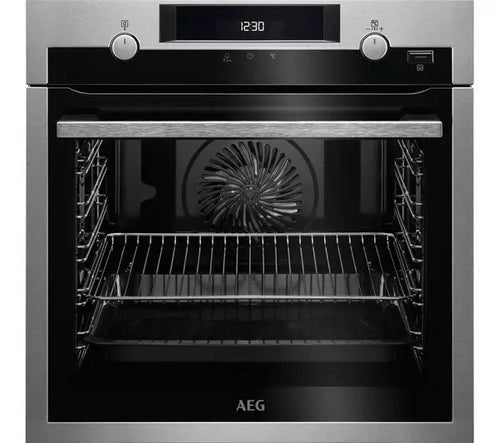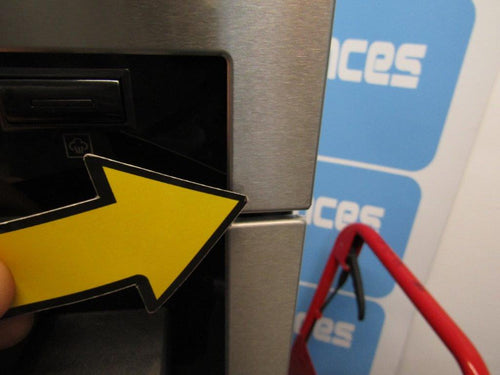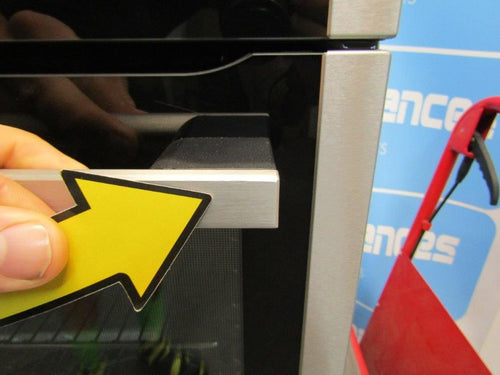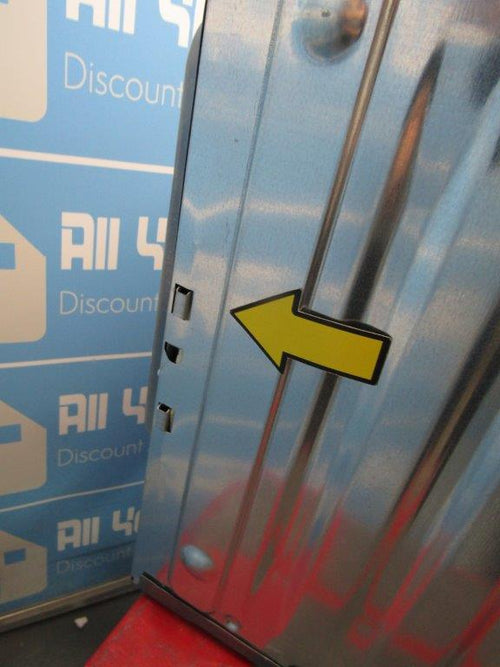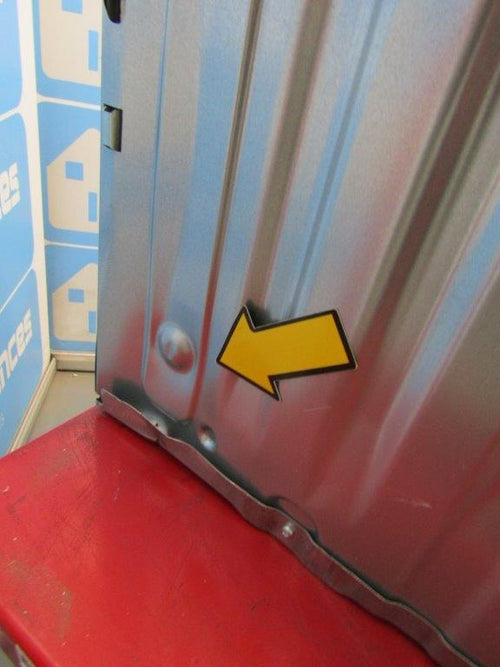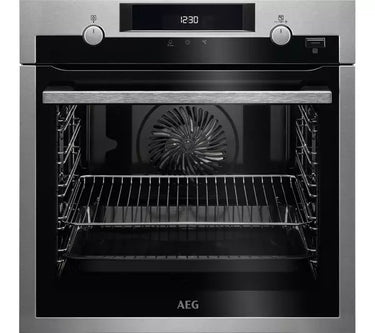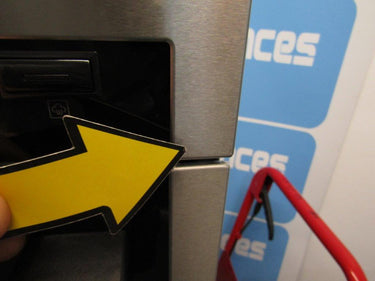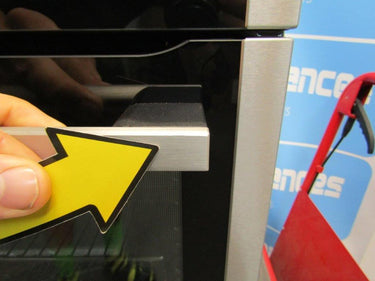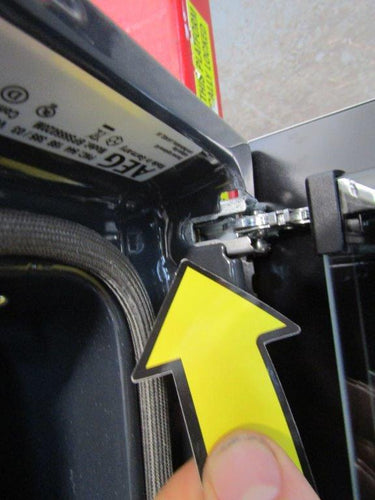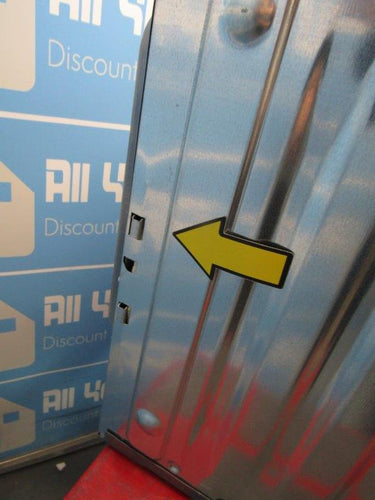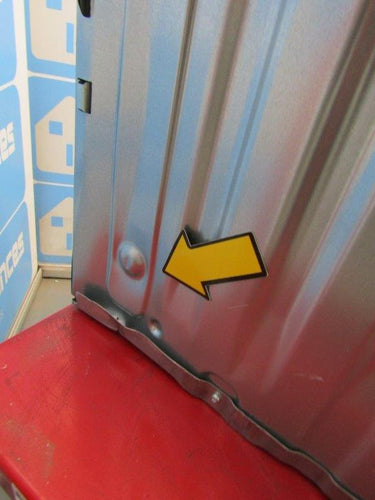 AEG BPS555020M Single Oven SteamBake Pyrolytic Stainless Steel GRADE B
Product Description
This graded AEG BPS555020M Single Oven SteamBake with Pyrolytic Cleaning is brand new. It has cosmetic blemishing to the casing, handle and front and inner and outer trim. Please See Images.
 Includes a full AEG 12 Month Parts and Labour Warranty.
Specification
71 litre oven capacity: More room for your cooking thanks to its large oven capacity
Isofront® Plus quadruple glazed door: Isofront® plus quadruple glazed door. Multi-layered glass panes, with heat reflective coating to keep the heat in the oven.
Fan controlled defrosting: Suitable for delicate items such as cream cakes, this light defrost circulates room temperature air around the food slowly, defrosting it hygienically in less than 1/2 the time!
LED digital display: Clear information at a glance with the LED display
Base heat finishing: Heat from the bottom element only. Perfect for reheating pies and pastries as it keeps the pastry crisp. It can also be used on warm plates.
Child lock for added safety: Oven controls can be locked to prevent misuse, providing safety and peace of mind.
'A' energy class
Performance
Cleaning: Pyrolytic
Temperature range: 30°C - 300°C
Maximum Microwave output (W): 0
Cavity size: 71
Largest Surface area: 1418
Noise: 48
Installation
Plug: No
Dimensions (mm) (HxWxD): 594x595x567
Dimensions (Built-in, mm): 590x560x550
Required Fuse: 16
Colour: Stainless Steel with antifingerprint coating
Energy
Total electricity loading, W: 3200
Frequency: 50
Energy class: A+
Energy consumption, conventional mode, kWh per cycle: 1.09
Energy consumption per EU standard cycle: 0
Other
Product number (PNC): 944 188 385
Cavity coating: Grey Enamel
Voltage: 240
Top oven number of shelves: No
Bottom oven shelves: 2
0002205B4, 0040907E3, 4002308D1
WHAT DOES GRADED MEAN?
A GRADED ITEM IS A NEW PRODUCT THAT HAS NEVER BEEN USED.
Graded items can come in several forms and they are listed below. Each item on our site will clearly state which it is.
1) A product may have packaging that is slightly damaged or dirty (defined as TATTY) If the original packaging is significantly damaged it may be replaced by alternative packaging to the same specification as the original. The large retailers will not accept any damage or dirt on the packaging of a product, and as most products sold these days are imported it is not possible for the manufacturers to re-pack these products in the UK, so they are sold to us and we pass the saving on.
There are no marks or damage to the product.

2) A product may have slight cosmetic marks on the side panel but NOT front panel this is designated Grade A. If it is designated Grade B, cosmetic marks will be on the front AND side panels.
If a product has any marks it will be clearly shown with photos on the product page. These marks will have no effect on the function of the product and are purely cosmetic. You will not see the marks on products that are integrated once they have been installed.

3) End of line. As manufacturers change products they may be left with some excess stock of the model that is going to be replaced, and they will sell the excess stock to us at a discount to clear them. We sell these as graded as part of the agreement with the supplier, so they can't be compared to the large retailers online. These products are new, boxed, and identical to the same product you could buy elsewhere, except with a large discount

The above products come complete with a manufacturers warranty. All original parts and accessories are included (unless otherwise noted in the item description).
We hope this explains why GRADED items item may a be good purchase for you. If you have any question please just press our online chat button, call us on free phone 08082
811028 or drop us an email via this link info@allyourappliances.co.uk
WHAT IS REFURBISHED ITEM?
A REFURBISHED ITEM IS A PRODUCT THAT HAS BEEN RESTORED TO FULL WORKING ORDER
The term "Refurbished" refers to items that may have been returned by customers due to cosmetic blemishes, a failed component, damaged or simply a change of mind.

All of our refurbished items have been repaired/restored to the original specification by our team of expert appliance engineers. Any replaced components are 100% genuine parts. Each refurbished appliance is fully checked, serviced and cleaned thoroughly. They are guaranteed to perform to full functionality upon receipt. We have direct accounts with some of the largest manufacturers to purchase genuine parts & components. Due to the thorough testing the appliances may show slight signs of use. Please see product images on the relevant product page for examples of potential cosmetic damages.

All of our refurbished items come with a manufacturers warranty unless stated otherwise. The length of warranty will be stated in the item description. This warranty provides exactly the same cover as you would receive if the item had been purchased from any retailer and the repairs carried out by the manufacturers official service team. All original parts and accessories are included (unless otherwise noted in the item description).

If budget is an issue then refurbished items can be an excellent way of saving money to acquire a top brand item that in most cases will be a vast saving over its normal sales price.

We hope this explains why refurbished items item may be a good purchase for you. If you have any question please press our online chat button, call us free phone 0808 811028 or drop us an email via this link info@allyourappliances.co.uk