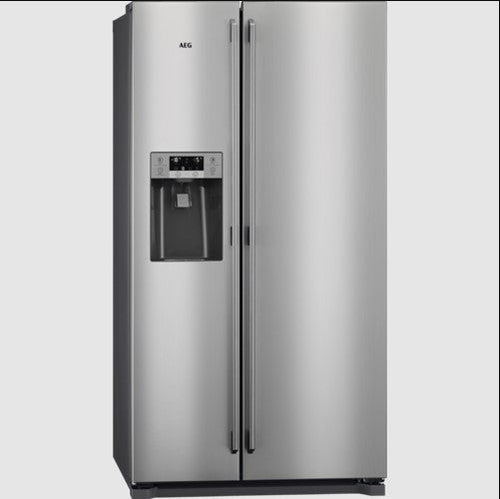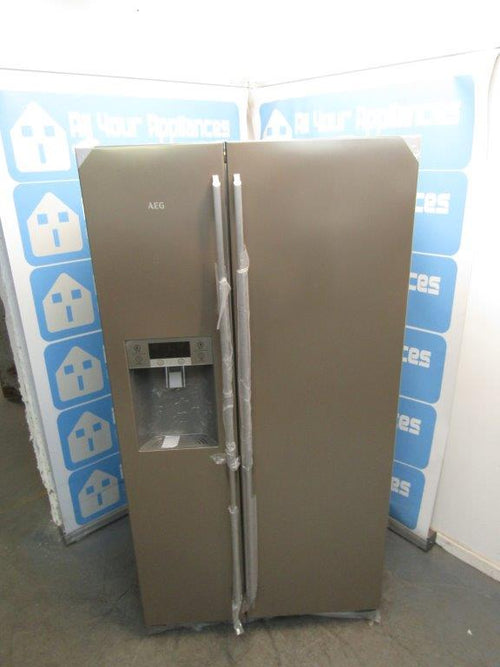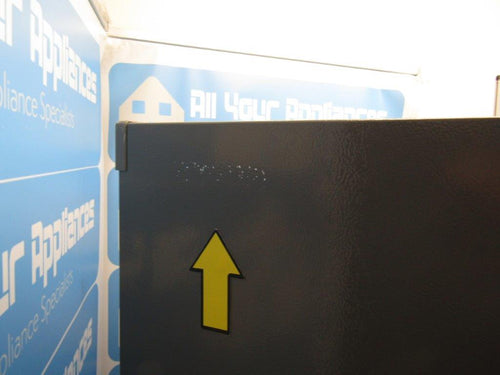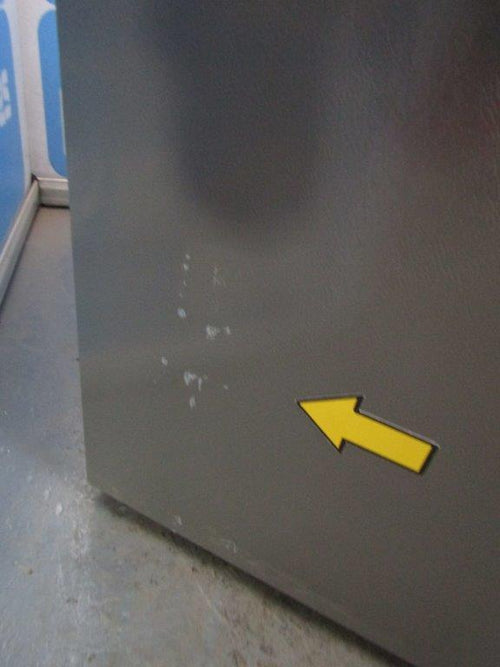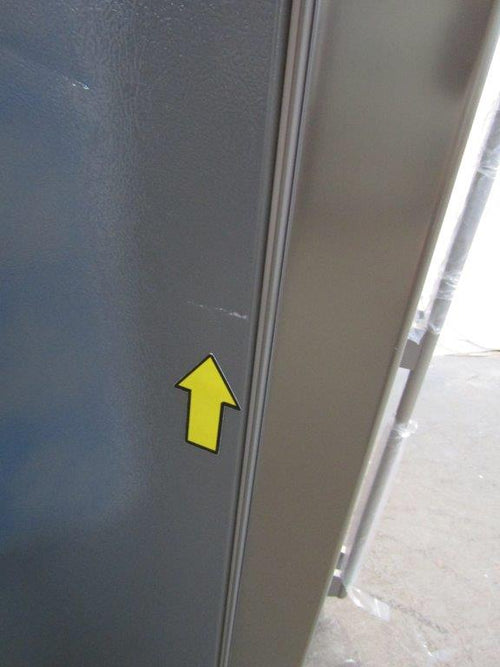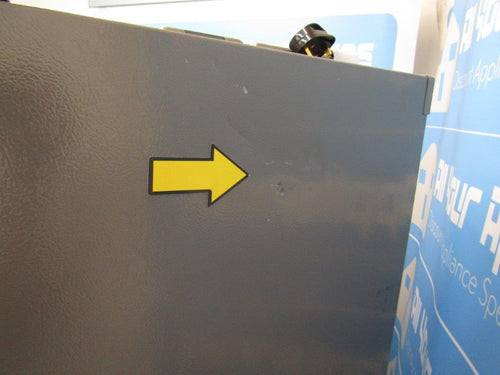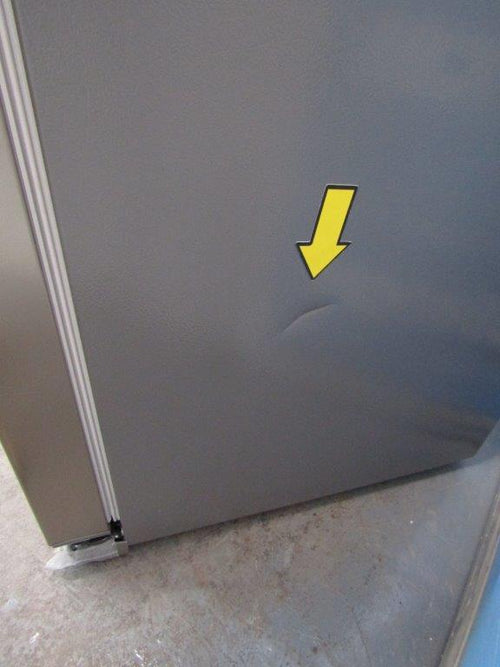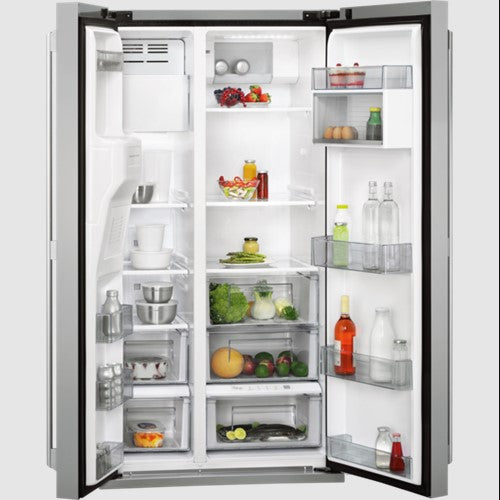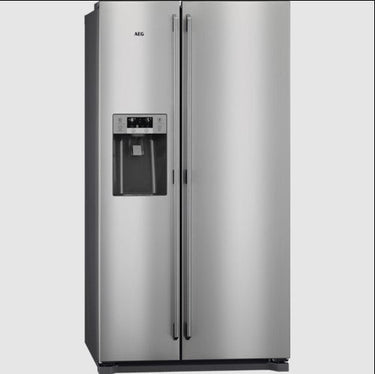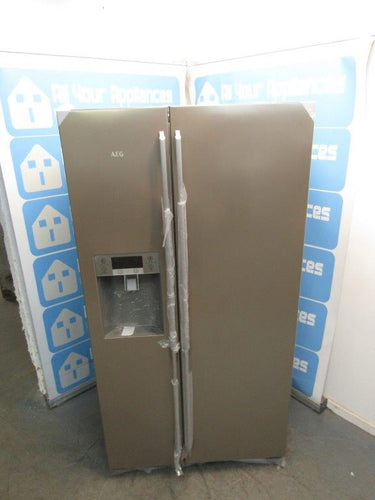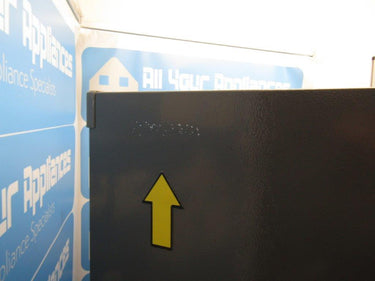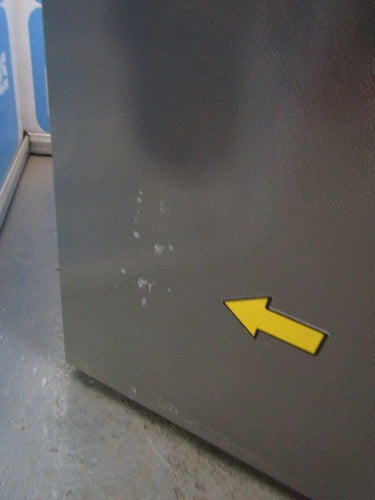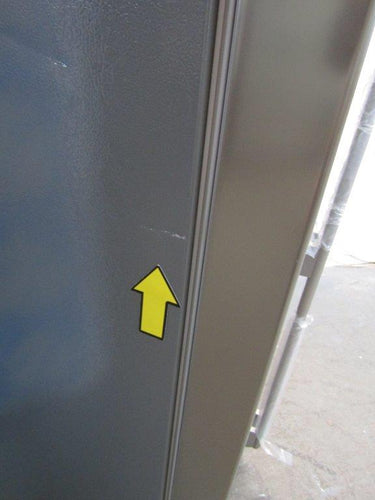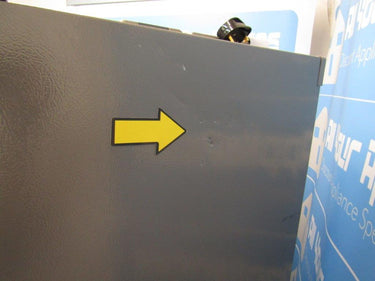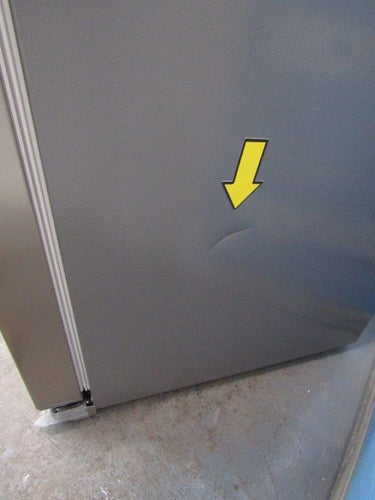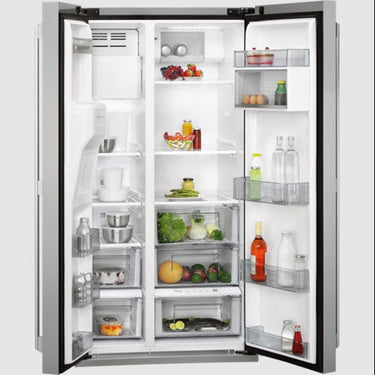 AEG RMB76121NX Fridge Freezer American Plumbed In Stainless Steel GRADE A
Product Description
This graded AEG RMB76121NX Fridge Freezer is brand new. It has cosmetic blemishing to the side panels. Please see images.
Includes a full AEG 12 Month Parts and Labour Warranty.
The AEG RMB76121NX American fridge freezer comes in a chic stainless steel finish so it will look great in any kitchen setting. Store more of the food you love with the 370 litres (net) fridge and the 179 litre (net) freezer sections. American fridge freezers are the ideal choice for a busy household.

Capacity
Because this is an American fridge freezer there is plenty of space inside both the fridge and freezer compartments for your household's food and drink. The fridge section of the RMB76121NX has a mammoth capacity of 370 litres (net) so will fit plenty of shopping bags worth of groceries inside. With the 3 cleverly designed salad drawers and 3 shelves inside the fridge you can make the most of the huge amount storage space. The interior lighting will illuminate every corner of the fridge section so you can see what sort of goodies you have tucked away at the back.

The equally impressive 179 litre (net) freezer section will allow you to store loads of frozen food in its 5 freezer compartments. The freezer section is frost free so you won't lose any valuable space to icy build up so you can go ahead and treat yourself to a few extra ice lollies.

Coolmatic Technology
AEG's Coolmatic technology quickly chills fresh foods, preserving flavour, colour and nutritional value which is ideal when large quantities of fresh food are placed into the fridge, great for part food and drinks. The Coolmatic function switches itself off automatically after a set period and the refrigerator compartment returns to the pre-set temperature.

Design
LED lights represent the most cutting edge lighting technology, which is why AEG-Electrolux has integrated them inside this fridge freezer. The internal LED lighting produces a brighter light, which shines evenly across the whole space. Plus, LED technology is smaller and more energy efficient, for more space inside and lower energy bills.

The fridge in this fridge freezer has shelves of robust safety glass, which can safely support even the heaviest items.

With separately controlled fridge and freezer compartments, this fridge freezer gives you more control options to choose from. You can set the temperatures to match your own specific preferences, and adjust them as and when your needs change.
SKU RMB76121NX
Appliance Type American Fridge Freezer
Brand AEG
Manufacturers Part Number RMB76121NX
Colour Stainless Steel
Energy Rating F
Fridge Capacity 370 Litres
Freezer Capacity 179 Litres
Number of Freezer Compartments 5
Requires Plumbing Yes
Defrost Type Frost Free
Ice and Water Ice and Water
Dimensions (H)1780 x (W)912 x (D)738mm
Width 901mm and Above
Height 1.76m-1.99m
Euronics Products No
8012205-N5L
WHAT DOES GRADED MEAN?
A GRADED ITEM IS A NEW PRODUCT THAT HAS NEVER BEEN USED.
Graded items can come in several forms and they are listed below. Each item on our site will clearly state which it is.
1) A product may have packaging that is slightly damaged or dirty (defined as TATTY) If the original packaging is significantly damaged it may be replaced by alternative packaging to the same specification as the original. The large retailers will not accept any damage or dirt on the packaging of a product, and as most products sold these days are imported it is not possible for the manufacturers to re-pack these products in the UK, so they are sold to us and we pass the saving on.
There are no marks or damage to the product.

2) A product may have slight cosmetic marks on the side panel but NOT front panel this is designated Grade A. If it is designated Grade B, cosmetic marks will be on the front AND side panels.
If a product has any marks it will be clearly shown with photos on the product page. These marks will have no effect on the function of the product and are purely cosmetic. You will not see the marks on products that are integrated once they have been installed.

3) End of line. As manufacturers change products they may be left with some excess stock of the model that is going to be replaced, and they will sell the excess stock to us at a discount to clear them. We sell these as graded as part of the agreement with the supplier, so they can't be compared to the large retailers online. These products are new, boxed, and identical to the same product you could buy elsewhere, except with a large discount

The above products come complete with a manufacturers warranty. All original parts and accessories are included (unless otherwise noted in the item description).
We hope this explains why GRADED items item may a be good purchase for you. If you have any question please just press our online chat button, call us on free phone 08082
811028 or drop us an email via this link info@allyourappliances.co.uk
WHAT IS REFURBISHED ITEM?
A REFURBISHED ITEM IS A PRODUCT THAT HAS BEEN RESTORED TO FULL WORKING ORDER
The term "Refurbished" refers to items that may have been returned by customers due to cosmetic blemishes, a failed component, damaged or simply a change of mind.

All of our refurbished items have been repaired/restored to the original specification by our team of expert appliance engineers. Any replaced components are 100% genuine parts. Each refurbished appliance is fully checked, serviced and cleaned thoroughly. They are guaranteed to perform to full functionality upon receipt. We have direct accounts with some of the largest manufacturers to purchase genuine parts & components. Due to the thorough testing the appliances may show slight signs of use. Please see product images on the relevant product page for examples of potential cosmetic damages.

All of our refurbished items come with a manufacturers warranty unless stated otherwise. The length of warranty will be stated in the item description. This warranty provides exactly the same cover as you would receive if the item had been purchased from any retailer and the repairs carried out by the manufacturers official service team. All original parts and accessories are included (unless otherwise noted in the item description).

If budget is an issue then refurbished items can be an excellent way of saving money to acquire a top brand item that in most cases will be a vast saving over its normal sales price.

We hope this explains why refurbished items item may be a good purchase for you. If you have any question please press our online chat button, call us free phone 0808 811028 or drop us an email via this link info@allyourappliances.co.uk