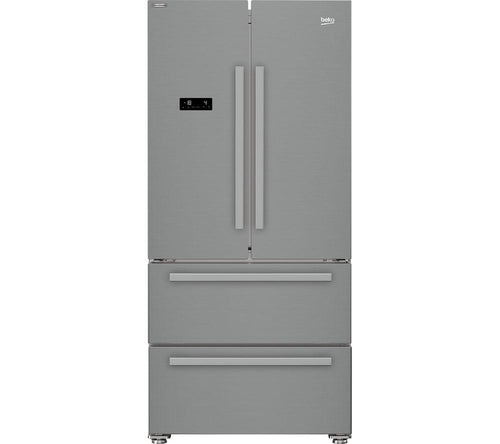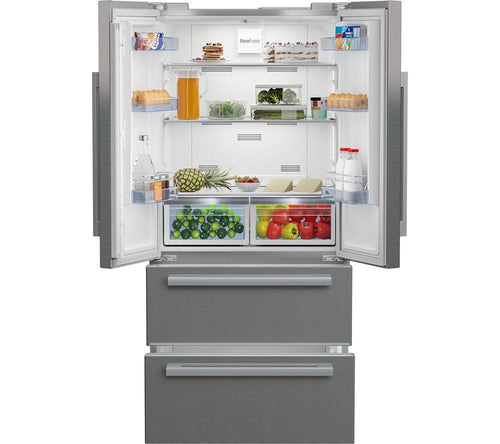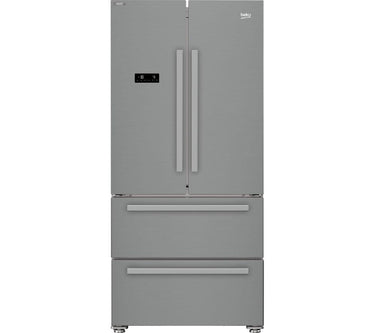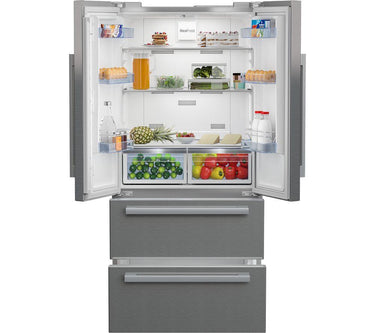 Beko GNE360520PX Fridge Freezer French Drawer in Stainless Steel
Product Description
This Beko GNE360520PX American Style Fridge Freezer is brand new
Includes a full Beko 12 Month Parts and Labour Warranty.
Overview
Manufacturer's guarantee 2 years
Energy efficiency rating F
Suitable for outbuildings No
Total storage capacity 539 litres
Noise level 35 dB(A)
Colour / Finish Matte brushed steel
Climate class SN - ST
Optimum ambient temperature range 10 - 38°C
Type of door handle External
Noise emission class B
Fridge storage volume 387 litres
Freezer storage volume 152 litres
Fridge functions
Fridge auto-defrost Yes
Fast chill function No
Air-flow cooling Yes
Hygiene features Odour filter
Other functions
Holiday mode
Food preservation technology Neofrost
Environmental
HFC free Yes
CFC free Yes
General
Box contents
- Beko Pro GNE360520PX American-Style Fridge Freezer
- Egg rack x 1
- Manual
Dimensions 1825 x 840 x 745 mm (H x W x D)
Weight 125 kg
Boxed dimensions 1909 x 907 x 772 mm (H x W x D)
Boxed weight 135 kg
Flat back design Yes
Rear panel material Metal
Fridge interior
Number of door compartments 6
Interior light LED
Number of shelves 3
Number of salad crispers 2
Storage features
Egg rack x 1
Adjustable shelves Yes
Freezer interior
Clear drawer fronts No
Compartments 
Drawers x 2
Controls
Thermostat Twin Controls
Internal controls Digital display
LED:
- Fridge temperature
- Freezer temperature
- Holiday mode
Safety features
Temperature warning No
Open door warning Audible
Freezer functions
Defrosting Frost free
Fast freeze function Yes
Power failure safe-storage time 22 hours
Freezer star rating ****
Freezing capacity 10 kg / 24 hours
Recommended installation space
- 25 mm to the sides
- 30 mm behind
- 50 mm above

1*Q16L
WHAT DOES GRADED MEAN?
A GRADED ITEM IS A NEW PRODUCT THAT HAS NEVER BEEN USED.
Graded items can come in several forms and they are listed below. Each item on our site will clearly state which it is.
1) A product may have packaging that is slightly damaged or dirty (defined as TATTY) If the original packaging is significantly damaged it may be replaced by alternative packaging to the same specification as the original. The large retailers will not accept any damage or dirt on the packaging of a product, and as most products sold these days are imported it is not possible for the manufacturers to re-pack these products in the UK, so they are sold to us and we pass the saving on.
There are no marks or damage to the product.

2) A product may have slight cosmetic marks on the side panel but NOT front panel this is designated Grade A. If it is designated Grade B, cosmetic marks will be on the front AND side panels.
If a product has any marks it will be clearly shown with photos on the product page. These marks will have no effect on the function of the product and are purely cosmetic. You will not see the marks on products that are integrated once they have been installed.

3) End of line. As manufacturers change products they may be left with some excess stock of the model that is going to be replaced, and they will sell the excess stock to us at a discount to clear them. We sell these as graded as part of the agreement with the supplier, so they can't be compared to the large retailers online. These products are new, boxed, and identical to the same product you could buy elsewhere, except with a large discount

The above products come complete with a manufacturers warranty. All original parts and accessories are included (unless otherwise noted in the item description).
We hope this explains why GRADED items item may a be good purchase for you. If you have any question please just press our online chat button, call us on free phone 08082
811028 or drop us an email via this link info@allyourappliances.co.uk
WHAT IS REFURBISHED ITEM?
A REFURBISHED ITEM IS A PRODUCT THAT HAS BEEN RESTORED TO FULL WORKING ORDER
The term "Refurbished" refers to items that may have been returned by customers due to cosmetic blemishes, a failed component, damaged or simply a change of mind.

All of our refurbished items have been repaired/restored to the original specification by our team of expert appliance engineers. Any replaced components are 100% genuine parts. Each refurbished appliance is fully checked, serviced and cleaned thoroughly. They are guaranteed to perform to full functionality upon receipt. We have direct accounts with some of the largest manufacturers to purchase genuine parts & components. Due to the thorough testing the appliances may show slight signs of use. Please see product images on the relevant product page for examples of potential cosmetic damages.

All of our refurbished items come with a manufacturers warranty unless stated otherwise. The length of warranty will be stated in the item description. This warranty provides exactly the same cover as you would receive if the item had been purchased from any retailer and the repairs carried out by the manufacturers official service team. All original parts and accessories are included (unless otherwise noted in the item description).

If budget is an issue then refurbished items can be an excellent way of saving money to acquire a top brand item that in most cases will be a vast saving over its normal sales price.

We hope this explains why refurbished items item may be a good purchase for you. If you have any question please press our online chat button, call us free phone 0808 811028 or drop us an email via this link info@allyourappliances.co.uk