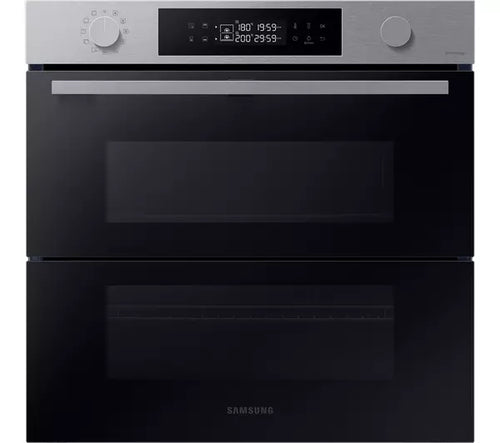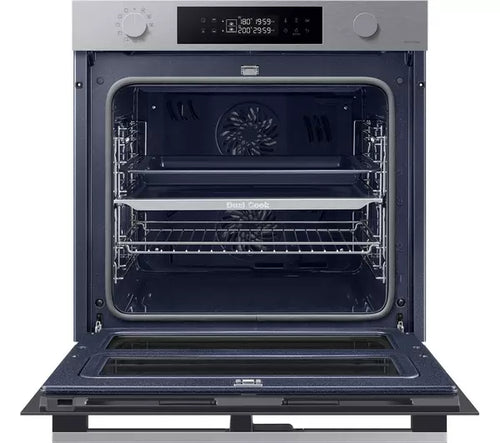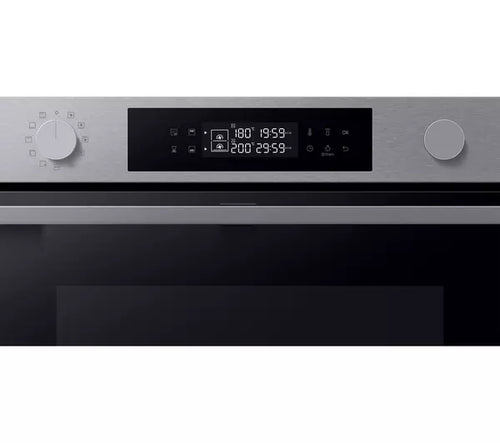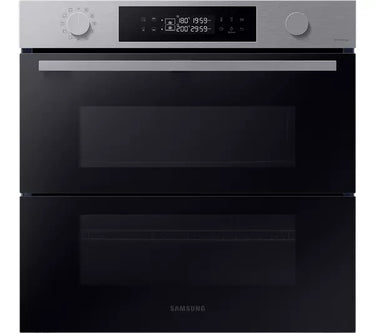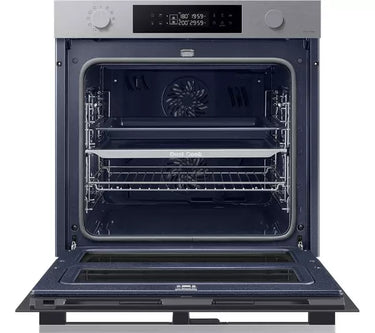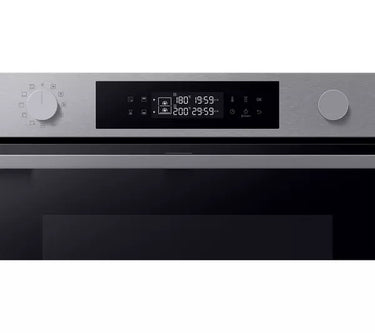 Samsung NV7B45305AS Single Oven DualCook Flex Built In Stainless Steel
Product Description
This graded Samsung NV7B45305AS Single Oven is brand new with slightly tatty packaging.

Includes a full 12 Month Parts and Labour Warranty.
Discover amazing culinary results with the Samsung NV7B45305AS Single Oven DualCook Flex. Enjoy the Samsung Dual Cook Flex Technology that divides the oven into two independent cooking zones with their own temperature settings, allowing you to cook different dishes at the same time. Get total control over your cooking with precise temperature settings and multiple cooking modes. Achieve perfect results every time.
PRODUCT
Type Built-In Electric Single Oven
Brand Samsung
PRODUCT HIGHLIGHTS
Automatic Programmes Yes
Dual Cook Flex Yes
Air Sous Vide Yes
Pyrolytic Cleaning Yes
Wi-Fi Connected SmartThings Cooking
DESCRIPTION
Colour Stainless Steel
Main Cavity Capacity (Usable/Litres) 76
Cavity Material Ceramic Enamel
Fuel Type Electric
GENERAL FEATURES
Controls Dial & Touch
Display LED/White
Lock Child Safety
Clock Yes
Keep Warm Yes
Time Display Yes
End Timer Yes
MAIN CAVITY
Capacity (Usable/Litres) 76
Cavity Material Ceramic Enamel
Cooking Method Convection/ Grill
Cooking Method Dual Cook Flex
Door Hinge Drop Down (Flexible Door)
Door Type Quadruple Glass
Number of Auto Programmes Single 40/Dual 10ea
Number of Shelves 1
Number of Shelf Positions 5
Interior Lights Top/Side - 25W/40W (Halogen)
Grill Yes
Grill Power 1100/1600W
Cleaning Function Steam Clean
Pyrolytic Cleaning Yes
FUNCTIONS
Dual Cook Flex -Yes
Single Mode Top heat + Convection
Single Mode Bottom Heat + Convection
Single Mode Eco Grill
Convection Yes
Air Sous Vide Yes
Steam Clean Yes
ACCESSORIES
Square Baking Tray Yes
Square Wire Rack Yes
NICHE DIMENSIONS
Height (mm) 590-600
Width (mm) 560
Depth (mm) 550
DIMENSIONS
Height (mm) 596
Width (mm) 595
Depth (mm) 570
ELECTRICAL CONNECTION INFORMATION
Total Connected Load (kW) 3.95
Fuse Rating (A) As supply varies depending on usage, please consult a qualified electrician for fuse rating.
, 6052103-N3M, 6062103-N3M, 4092503-M11M, 4082503-M11M, 4072503-M11M, 4022703-M11M, 4012703-M11M, 4002703-M11M, 4001904A5, 4011904A2, 4021904A2, 4051804D5, 4061804A5, 4001307D8 , 4061607D6, 4011907C2 , 4020308C6 , 4130608C8 , 4060909D8

WHAT DOES GRADED MEAN?
A GRADED ITEM IS A NEW PRODUCT THAT HAS NEVER BEEN USED.
Graded items can come in several forms and they are listed below. Each item on our site will clearly state which it is.
1) A product may have packaging that is slightly damaged or dirty (defined as TATTY) If the original packaging is significantly damaged it may be replaced by alternative packaging to the same specification as the original. The large retailers will not accept any damage or dirt on the packaging of a product, and as most products sold these days are imported it is not possible for the manufacturers to re-pack these products in the UK, so they are sold to us and we pass the saving on.
There are no marks or damage to the product.

2) A product may have slight cosmetic marks on the side panel but NOT front panel this is designated Grade A. If it is designated Grade B, cosmetic marks will be on the front AND side panels.
If a product has any marks it will be clearly shown with photos on the product page. These marks will have no effect on the function of the product and are purely cosmetic. You will not see the marks on products that are integrated once they have been installed.

3) End of line. As manufacturers change products they may be left with some excess stock of the model that is going to be replaced, and they will sell the excess stock to us at a discount to clear them. We sell these as graded as part of the agreement with the supplier, so they can't be compared to the large retailers online. These products are new, boxed, and identical to the same product you could buy elsewhere, except with a large discount

The above products come complete with a manufacturers warranty. All original parts and accessories are included (unless otherwise noted in the item description).
We hope this explains why GRADED items item may a be good purchase for you. If you have any question please just press our online chat button, call us on free phone 08082
811028 or drop us an email via this link info@allyourappliances.co.uk
WHAT IS REFURBISHED ITEM?
A REFURBISHED ITEM IS A PRODUCT THAT HAS BEEN RESTORED TO FULL WORKING ORDER
The term "Refurbished" refers to items that may have been returned by customers due to cosmetic blemishes, a failed component, damaged or simply a change of mind.

All of our refurbished items have been repaired/restored to the original specification by our team of expert appliance engineers. Any replaced components are 100% genuine parts. Each refurbished appliance is fully checked, serviced and cleaned thoroughly. They are guaranteed to perform to full functionality upon receipt. We have direct accounts with some of the largest manufacturers to purchase genuine parts & components. Due to the thorough testing the appliances may show slight signs of use. Please see product images on the relevant product page for examples of potential cosmetic damages.

All of our refurbished items come with a manufacturers warranty unless stated otherwise. The length of warranty will be stated in the item description. This warranty provides exactly the same cover as you would receive if the item had been purchased from any retailer and the repairs carried out by the manufacturers official service team. All original parts and accessories are included (unless otherwise noted in the item description).

If budget is an issue then refurbished items can be an excellent way of saving money to acquire a top brand item that in most cases will be a vast saving over its normal sales price.

We hope this explains why refurbished items item may be a good purchase for you. If you have any question please press our online chat button, call us free phone 0808 811028 or drop us an email via this link info@allyourappliances.co.uk